Sacramento Criminal Defense Attorney
How To Chose the Best Criminal Attorney in Sacramento.
Not all of the Criminal Attorneys in town are created equal. Some attorneys who advertise in Sacramento have NO personal experience in Sacramento. They simply send a younger associate to court. Other Sacramento Criminal Attorneys, have local experience, but they charge way too much money, and make grand promises that they can't back up with performance. I am in Sacramento court defending clients facing criminal charges every day the courts are open. The judges, district attorneys, clerks, and bailiffs know me because they see me daily. There is no substitute for local experience in Sacramento when it come to criminal defense.
Who is Sacramento Criminal Defense Attorney Chris Parkhurst?
Chris Parkhurst is the hardest working, most dedicated criminal defense attorney in Sacramento. Does that sound like a bold claim? Well, while many local defense attorneys are off playing golf by 4pm, you will often find Chris in the Sacramento County Jail late into the night visiting his clients. If he is not visiting his clients in jail late at night, Chris is likely in his office strategizing his clients' defenses. If you are one of the many clients who Chris has saved from jail, this is no surprise to you. But it is time everyone knew. Chris is one of the only Criminal Attorneys in the Sacramento Area who has received the elite Martindale-Hubbell AV Preeminent Award.  In his reviews for this award Chris earned a perfect score of 5.0 out of 5.0.  This is an extremely prestigious award only granted to the very best attorneys.   Further, Chris has been recognized for his exceptional trial skills and has been nominated as one of the Top 100 Trial Lawyers in the state by the National Trial Lawyers organization.


Types of Cases Chris Parkhurst Defends Daily in Sacramento:
DUI
Felony DUI
DUI Refusal Cases
Drug Crimes & Possession of Controlled Substances
Domestic Violence
Theft Crimes Including Grand Theft and Petty Theft
Assault & Battery
Burglary
Robbery Weapons Charges
White Collar Crime Including Embezzlement or Fraud
Expungements
Boating Under The Influence (BUI)
In my opinion, the Sacramento Criminal Defense Attorney you hire should meet the following criteria:
1. Have experience personally handling Criminal cases in the Sacramento Court, including Sacramento court trial experience.  I have been  selected as a member of an elite group of criminal trial attorneys included in the Top 100 Trial Attorneys by the National Trial Lawyers Association.
2. Have a track record of the highest levels of customer service. Check out their online reviews. Here is the link to my reviews for example. These are all real reviews collected from various online review sites. You will see that my clients are pleased with the service and results I provide them.
3.  The defense lawyer you hire should make themselves personally available to you.  They should not hide behind their secretary or a salesman. If the attorney will not speak to you before you hire them, they will most certainly be unwilling to talk to you after you hire them.
4. Trust your gut. When you speak to the attorney, do they make you feel better? Do they make you feel comfortable? Do they carefully explain themselves? Do they speak knowledgeably? Hiring an attorney is like selecting a new car. Go with your gut and pick one you actually like.
5. The Attorney you chose to defend you against a Sacramento criminal charge should be both highly experienced in the technical aspects of California Criminal law, AND they should have experience with the local customs, procedures, and practices unique to the Sacramento courthouse.
6. Finally, chose an attorney with the integrity to charge you a fair price. Watch out for attorneys that make incredible promises and charge extreme fees. A good local DUI attorney will charge reasonable prices given the complexity of your case. My prices are among the best you will find. I do not need to overcharge, because I keep my overhead low, and I genuinely like defending people charged with criminal offenses. It is my pleasure to take on the District Attorney (DA).
I Help Clients Avoid Jail.
I have literally helped more of my clients avoid jail than I can count. For the past decade I have spent nearly every day the courts are open fighting to keep my clients avoid jail. In most circumstances, even when my clients were found guilty, I have been able to help keep my client out of jail. Many times, if an experienced attorney fights he can arrange jail alternatives in lieu of time behind bars. In circumstances where jail cannot be avoided I can often find ways to shave substantial time off my clients' jail sentences. If you are facing criminal charges in Sacramento, I would love the opportunity to help you avoid jail. Call me today.
Peace of Mind is One Phone Call Away. Call Me Today, and Be Glad You Did
Getting arrested is one of the most frightening things that will ever happen to you. Almost worse than getting arrested is the anxious anticipation after you have been arrested as you wait to find out what will happen. One of my favorite aspects of my job is the opportunity I have every day to meet people who are scared and to give them peace of mind. In my experience, things are rarely as bad as they feel following an arrest. The anxiety and fear we feel tends to get exaggerated in our minds, and this can be the worst part. If you call me, I can help you put your situation into perspective and help you understand your options. We can work together to develop effective defense strategies for you. Call me today and I promise you will feel much better after we speak.
I Tear Cases Apart to Find the Defenses Other Attorneys Miss
I have learned that good things often happen when you put in the effort and fight, even when it appears you are fighting an uphill battle. One of the the keys to my success in defending my clients over the past decade has been to out-work everyone else. As I tear into my clients' cases and leave no stone unturned I often find defenses that were not immediately evident from the outset. The benefit of hiring an attorney like me who is passionate about defending you, and who is committed to working on hard on your case, is that if there is a way to defend you, we will find it.
The Parkhurst Difference
I am a very different type of attorney than most of those you will encounter on the internet. My legal service is defined by personalized customer service to each one of my clients. My clients work directly with me and I am personally familiar with each aspect of their cases. You will find no "one size fits all" approach here. My service is personal and exemplifies the highest levels of professionalism. I treat my clients the way I would want an attorney to treat my mother, if she met with one. I believe in providing aggressive legal representation coupled with personalized customer service. That is the Parkhurst difference.  Call me and meet me personally.  You will see what I mean.
Proven Winner in Sacramento: I Have a Well Earned Reputation as a Winning Sacramento Criminal Attorney
My firm has taken three cases to trial recently and we have won all three. In one case, our client was completely acquitted of DUI charges. You can read her reviews on Yelp. In another case my client was a fire man who was wrongfully accused of Workers Compensation fraud. That client was acquitted as well. Likewise, I recently took a case to trial in which my client was facing many years in jail. I was successful in beating most of the charges and my client will be released soon. Due to my successful track record of taking cases to trial in Sacramento and winning, the district attorneys know who I am and they take me seriously. If you need a criminal attorney in Sacramento who is a proven winner, call me today.
Chris Parkhurst Victories in the Press
Below you will find a link to news articles about trials I have won. These articles are about clients of mine who trusted me when their lives were on the line. I returned their faith in me with victories in the courtroom. Some attorneys talk big, but cannot back it up with results. I back it up with results. Victories in the press
Have Past Criminal Conviction? Clean Your Record. I Do Affordable Expungements
My office has become one of the go-to law firms in Sacramento for fast and affordable expungements. Do not live with blemishes on your your record. California law provides away to have old convictions dismissed retroactively. Call us today. We can help. Or click the link below for more information and Frequently asked questions (FAQ) on expungements. Sacramento Expungement Attorney
Credentials
Chris is in among a very distinguished class of attorneys formally selected as on the top trial lawyers in the state. Chris has been nominated by his peers and selected as one of the National Trial Lawyers Top 100 Criminal Defense Trial Lawyers in the State of California. Chris has gone to trial and won for his clients, when everything was at stake. Moreover, Chris Pankhurst is one of a select few attorneys in Sacramento who is AV Preeminent Rated by Martindale- Hubbell.  Any AV Preeminent rating is reserved for only the most skilled, ethical, and respected attorneys.  Chris Pankhurst's legal credentials set him apart as one of the most elite criminal attorneys in Sacramento.
Frequently Asked Questions
(FAQ)

 Updated: 8/23/17
What Makes Some Sacramento Criminal Defense Attorneys Better Than Others?
Answer: There are various factors that set some criminal defense attorneys apart from others. Below is a list of some of the major factors that distinguish one attorney from another:
1. Experience. There is simply no substitute for experience. Chris and his small team of experienced Sacramento attorneys practice in the Sacramento court literally every day it is open. Period. We have practiced in Sacramento for years, both negotiating and litigating cases. We know the district attorneys and the judges and they know us.
2. Personality. While there are several experienced Sacramento attorneys, not all of them are likable. A likable attorney will be more enjoyable for you to deal with and they are going to be more likable to the judges and District Attorneys. Chris Parkhurst is well respected in Sacramento as an experienced attorney and a genuinely good guy.
3. Creativity. The fact of the matter is that many of our clients are guilty of committing some crime and they need a criminal defense attorney who can work negotiate a resolution that keeps them out of jail. This type of representation often requires an attorney who can think outside the box and work out a creative resolution that satisfies both the court an accomplishes the client's goals for the case.
4. Passion. A Sacramento criminal defense attorney who loves what they do and is passionate about fighting for their clients will often find a way to get their client a great resolution, whereas a an attorney who is burned out and who does not really care about their clients is like to accept defeat without a fight. Chris Parkhurst sets himself apart in that he is passionate about fighting for his clients.
What Do I do First? Post Bail, or Hire a Criminal Attorney?
Answer: One of the first questions individuals face when their loved one is arrested in Sacramento is whether to post bail first or hire a criminal defense attorney?
In order to understand the answer to question you must first realize that bail is a fluid situation, thus there is some risk associated with bailing an individual out before their arraignment as the bail could potentially be (and often is) either raised, or lowered at the arraignment.
For example, if someone is arrested and their bail is set at $50,000, then they could post bail of $5,000 (this is based on the standard 10% rate) and be released immediately. However, at the arraignment the bail could be reduced.  So if you pay $5,000 for bail before the arraignment, and at the arraignment the bail is reduced to $25,000 (for example) then the decision to post bail before the arraignment unnecessarily cost you an extra $2,500, whereas if you had waited and posted bail after the arraignment, then you would have only paid $2,500. instead of $5,000.  To further illustrate, in this scenario, if the case is rejected or dismissed at the arraignment, then decision to post bail before the arraignment costed you $5,000 as the defendant gets reduced automatically if a case is dismissed.
On the other hand, suppose you post the $5,000 bail before the arraignment and the bail is raised at the arraignment to $100,000 (just as an example) then in that case your love one (the defendant) will be taken back into custody until an additional bond is posted.  If you cannot afford to post the extra bond, then your love one (the defendant) will remain in custody and the initial payment of $5,000 to a bail bondsman was wasted.
Many people mistakenly believe that the arraignment is not a significant hearing, and having an attorney for the arraignment is not important.  This is a mistake, and one of the most important things a criminal defense attorney will address on your behalf at your arraignment is the issue of bail. An experienced criminal defense attorney can often make effective arguments to keep your bail from being raised, and possibly even get it reduced.  So, if money is tight, it might make the most sense to post bail after the arraignment to ensure that you don't pay any more than you absolutely have to.
I Am Being Charged With a Crime in Sacramento, Am I Facing Jail Time?
Answer:  While every case is different, an experienced Sacramento Criminal Defense Attorney should be able to keep most of their clients out of jail. We keep the vast majority of our clients out of jail. That being said, the primary factors that make it most likely that someone will actually do jail time are listed below:
1. You are on probation (particularly felony or formal probation)
2. Your crime is a serious/ violent/ or strike felony
3. Your crime resulted in serious harm or death to a victim
4. You have been to jail or prison before
5. You have a history of prior convictions
If none of the five factors listed above applies to your case, then it is likely that we can help you avoid jail. Of course, every case is unique and every cases rises or falls on the specific facts of the case. If you are concerned that you might be facing jail time, call our office today and consult with a Sacramento defense attorney at no charge. We are happy to help.
I Am Being Charged With a Crime in Sacramento, Is There Any Harm in Waiting to Hire a Criminal Defense Attorney Until After My Arraignment?
Answer:  One of the saddest parts of our job is representing people who have either missed critical windows of opportunity in their cases, or worse yet, those who have screwed their cases up by not hiring the best Sacramento Criminal Attorney they can afford, quickly.  Just today, we were hired by a lady who is was arrested for domestic violence two days ago. Within 1 hour of being hired, we had made contact with the district attorney handling domestic violence cases in an effort to persuade them to dismiss the case prior to the arraignment.  That is fast action!  This can be a very effective strategy, but it is a strategy that is highly time sensitive and requires fast work by the defendant and the attorney. As another example, we just had a client go to state prison due to the fact that he incriminated himself prior to hiring an attorney to protect him. He simply waited too long before hiring an experienced criminal attorney. It was heartbreaking. For these reasons, and many others, it is critical that you act quickly after being arrested and hire the best sacramento criminal attorney you can. Hint: Chris Parkhurst is the best criminal attorney in Sacramento.
I called the police and My Husband / Wife (or girlfriend or boyfriend) was arrested for domestic violence. I do not want to file charges. What should I do?
Answer: Unfortunately many people in Sacramento learn the hard way that if the police are called out for a domestic violence situation, the policy of the police is to arrest one of the individuals. This can be a brutal experience as the police will often make a felony arrest and the corresponding bail amount in Sacramento County is $50,000. As to the issue of pressing charges, it is a mistaken assumption that many people make that they have the power to choose whether or not to "press charges" on someone. The reality is that once the police are involved, they will conduct and investigation, and then turn the investigation over to the district attorney. The district attorney then reviews the investigation, determines whether they believe a crime was committed, and if they believe a crime was committed, they then prosecute. Often times, they do this whether or not the victim desires prosecutions or not. That being said, there may be other ways to persuade the district attorney not to prosecute, but it is critical to hire and experienced Sacramento Criminal Attorney so they can contact the district attorney and try to persuade them not to file charges. My small team of Sacramento criminal defense attorneys are among the most experienced in Sacramento at effectively defending these types of cases. If this sounds similar to your situation, please call us to discuss it.
When was the last time one of the Sacramento Criminal Attorneys in your firm won a DUI jury trial?
Answer: On 3/8/17 we won our most recent case! Sacramento Criminal Defense Attorney Steve Schofield just walked out of the Sacramento court with an ecstatic client. Our client was falsely accused of a felony DUI and hit and run.  We took the case to trial, and the jury just came back with a verdict of NOT GUILTY on all counts!  Below is photo of our client who walked out of court as a free man.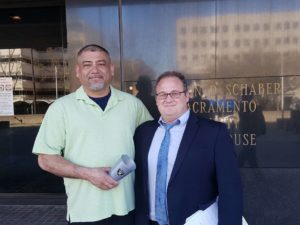 I Have Never Hired A Criminal Attorney. How Do Criminal Attorney Retainers Work?
Answer:Unlike most areas of law, Criminal attorneys most frequently require flat fee retainers. A flat fee retainer is a fixed price for a defined case, or task, regardless of the number of hours spent. For example, a criminal attorney in Sacramento may charge $3,000 to defend a felony domestic violence case through pre-trial. In this example the fee of $3,000 would cover the appearances in court and other work, whether the representation required 10 hours of work or 20 hours of work. Contrast this with most family law or civil attorneys who bill their clients at an hourly rate. If you have questions about what is required to hire a criminal attorney, please call us. We are happy to explain our fees and the process.
If I am innocent, is there any reason I should not talk to the police?
Answer: Virtually all of us are raised to believe that honesty is the best policy and that the police are our friends. But unfortunately, when it comes to a criminal investigation, the best policy is almost always to exercise your 5th Amendment right to remain silent and avoid self-incrimination. And if you are truly innocent, all the more reason why it is probably critical that your do not talk, thereby creating the opportunity for your words to be used against you. Of course, every situation is unique and the best approach is to consult with a criminal defense attorney. If you are involved in an incident that involves law enforcement, err on the side of caution and speak to a criminal defense attorney before speaking to the police.
When is the last time Christopher Parkhurst Won a Jury Trial?
Answer: August 2017! Just last week Sacramento Criminal Defense attorney Christopher Parkhurst took a case to trial and secured an Acquital for our client as the Jury came back with a unanimous verdict of NOT GUILTY! We are prepared to help our clients take their cases as far as they need to to achieve the results they want.
Contact Me Today

Sacramento Office
1007 7th St. #302
Sacramento, Ca 95814